The bathroom is one of the most important rooms in the house. It is a place where we start and end our day. A place where we can relax and unwind. So it's no surprise that the bathroom is also one of the most popular places to renovate. Choosing the right vanity color is one of the most important aspects of any bathroom renovation. The vanity color is an important decision as it will not only affect the overall look of your bathroom but will be one of the first things that catch people's eyes when they walk in. While white has always been popular, other options will still get you the aesthetic appeal you're looking for without being too plain. In this article, we'll explore the 11 best popular colors for bathroom vanities so that you can choose the perfect shade for your space.
11 Most Popular Bathroom Vanity Colors in 2022
1. White bathroom vanities
White is a classic choice for bathroom vanities because it is clean, bright, and timeless. White vanities can give your bathroom a clean and airy feel, or they can be dressed up with colorful accents for a more dynamic look. If you're going for a white vanity, choose a high-quality paint or stain so that your finish will withstand inevitable bumps and scrapes. White is a timeless color that looks beautiful in any bathroom. White works well with almost any other color. Many bathrooms are painted in shades of white rather than one solid color.
2. Earthy green
Green bathroom vanities can be a lovely, natural addition to the space. Green is a very nature-oriented color that looks great with many other warm tones. Keep in mind that you can use more than one shade of green if you want to break up your bathroom space. Green bathroom vanities are often made from bamboo, wood, or ceramic. Green seems to seep from the walls and ceiling and fill the entire room. Because of its soothing properties, green is often used in bedrooms and bathrooms. In terms of bathroom vanities, blue-green is one of the most popular shades.
3. Cool gray bathroom vanities
Cool gray bathroom vanities are a modern, minimalistic choice that works well with any more traditional shades of gray. In addition, gray is a versatile color so you can pair it with just about anything from off-white to deep purple. Gray walls have become popular in recent years for their versatility and ability to make small spaces seem more prominent.
4. Pink bathroom vanities
Pink might not be the first color that comes to mind when you think of bathroom vanities, but it can be lovely in a suitable space. For example, pink bathroom vanities work well in feminine and children's bathrooms. When using pink in your vanity color scheme, pair it with other light colors like white or pale green, so the space doesn't feel too overwhelming. You could also add pops of bright color through accents like towels, rugs, or wall art.
5. Bamboo bathroom vanities
Bamboo bathroom vanities are unique due to their eco-friendly appeal. Bamboo is a rapidly renewable resource that grows quickly and requires minimal maintenance. As a result, it is often used as an alternative to tropical hardwood for flooring, furniture, and bathroom vanities. Bamboo vanities can come in various shades, including natural bamboo or tan.
6. Navy blue
Navy blue bathroom vanities are a traditional choice that can be paired with almost any other color. Blue is one of the best bathroom colors because it is sophisticated and looks great in any home. Many people like navy blue because it is timeless and can be paired with almost any other color.
7. Black bathroom vanities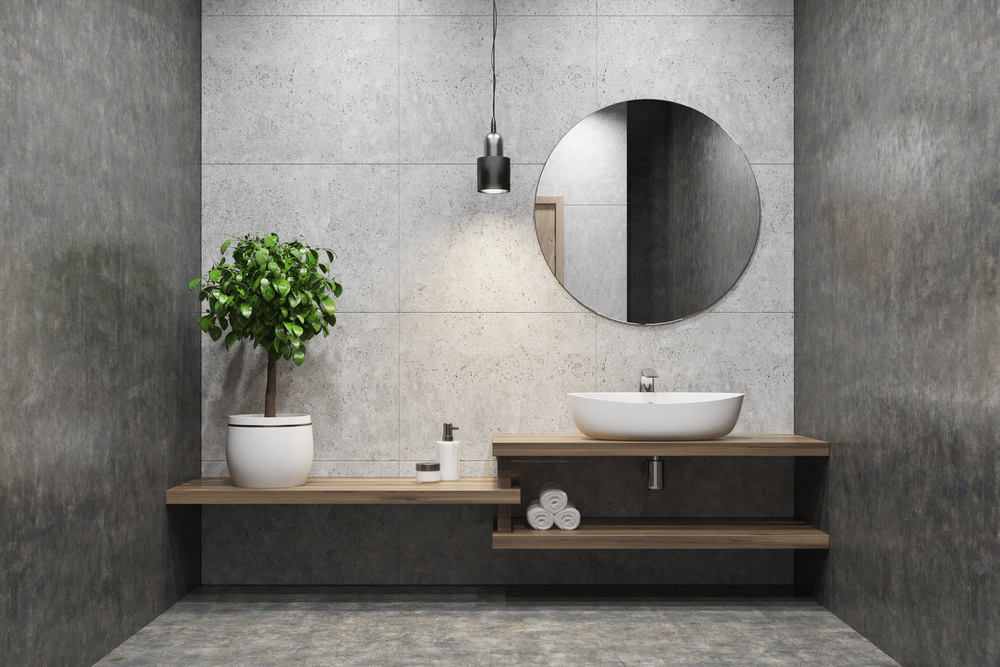 A black bathroom vanity can add a touch of sophistication to your space. If you want to make a statement with your bathroom vanity, black is the way to go. However, remember that a black vanity will require more upkeep than other colors, as it will show water spots and fingerprints more easily.
8. Beige bathroom vanities
Beige bathroom vanities are usually made of natural wood tones, making them rustic and earthy. However, beige can be used with other colors, so it's not just limited to pairing up with white. Beige works well in any room of the house. For example, one way to use beige is to pair it with a pair of tan wooden side tables that would work well in any space. Beige can also be used to accent the walls for a very cozy and inviting feel.
9. Turquoise and aqua bathroom vanities
Turquoise and aqua offer an interesting contrast when paired together. The colors are relatively neutral, so they work well with almost anything. These colors are very popular in the fashion world, which means you will see these colors on clothing and accessories. In addition, turquoise and aqua can be combined with any other color to create a different look.
10. Seafoam green
Seafoam green bathroom vanities are a relatively new addition to the list. This popular color has become very popular in recent years and is extremely modern and trendy. Seafoam green could easily be paired with white so that the two shades of cool blue create a softer, more subtle look. The seafoam green tone could also be used on its own if you want to create a bolder, more contemporary look.
11. Charcoal gray bathroom vanities
Charcoal gray bathroom vanities are a great choice to create a more modern and sophisticated look. This color can easily make your bathroom appear bigger and more open, which is ideal for small spaces. At the same time, charcoal gray is also elegant enough to add a touch of class to even the classiest spaces. It's not uncommon for home buyers to choose gray bathrooms for this reason.
Conclusion
No matter your style, there's sure to be a bathroom vanity color that will suit your needs. In addition, there are endless possibilities when choosing the right hue for your space, from traditional white to bold black. So if you're stuck on what color to choose for your new bathroom vanity, contact us today, and we'll be happy to help! (941) 248-0301