Are you looking for ways to make your small bathroom look bigger? If so, look no further! The bathroom is one of the most important rooms in your house. Not only is it where you get ready for your day, but it's also a place where you can relax and unwind after a long day. In this article, we'll give you tips on making your small bathroom look bigger.
13 Ways to Make Your Small Bathroom Look Bigger
1. Add a mirror
A mirror can be the perfect focal point to make your bathroom feel more spacious and grand. A large mirror will also reflect color around your room and add a dose of subtle artistry. A mirror is also useful as it can give you a better view of the room, which will come in handy while doing the hair and makeup, or when washing your face. It can also make checking on your kids if they're playing in the bathroom easier.
2. Choose a light color for your walls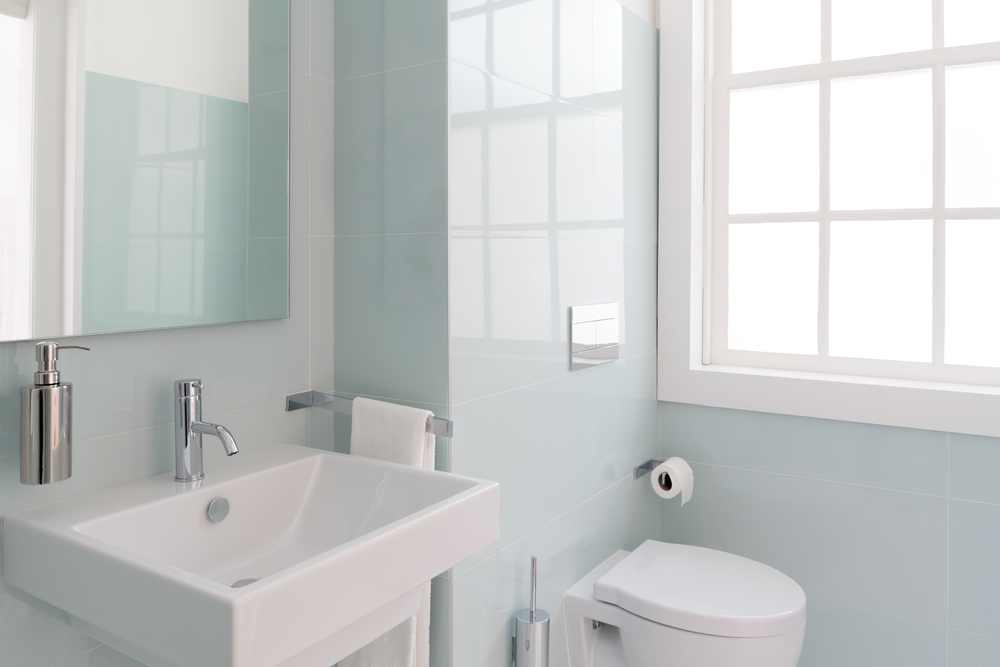 Light colors make spaces seem bigger. Pick a light color like pale yellow or blue since these colors reflect light and brighten the room. You may also want to add a few darker colors for contrast and visual flair. You can use other colors in small doses, such as decorative towels and accessories, but don't go overboard.
3. Lighten up the space
One thing you can do to make your bathroom look bigger is to lighten up the space by using decorative accessories and accessories instead of just plain white towels. For example, many people use bright yellow towels in their bathrooms instead of plain white ones. This might seem like an odd choice, but it helps you create a bigger space, and it's just more fun. Another idea to lighten up the space is to choose lighter colors for your towels or even mix them with a brighter colors.
4. Choose a neutral paint color
Pick a paint color that's not too intense. For example, choosing colors such as cream is nice, as they don't make the room feel smaller. If you choose a darker shade for your walls, use brightly colored accessories and decorations to offset it to avoid making the room feel smaller.
5. Opt for a glass shower door
Glass shower doors are a great choice as they allow you to make the most of your free space. If your bathroom looks a tad claustrophobic, it's time to bring in an architectural glass shower door. Putting one in will instantly change the look and feel of your bathroom and make it look bigger simultaneously.
6. Play with pattern
Patterns greatly impact the bathroom, not just in terms of decoration. If you choose a bold pattern, ensure it adds to the room's functionality. For example, if your bathroom has a square shape, you can use patterns shaped like squares to create the illusion of space in your small bathroom. Try painting your walls in different shades instead of just one solid shade to make the most out of the pattern and make more space. This will make the room look bigger, and you'll also get more bang for your buck.
7. Get rid of clutter
Clutter can make a room feel smaller and so you should look to get rid of things that may be taking up too much space. For example, try getting rid of your linen if possible. The more organized you keep your small bathroom will make it will appear bigger without cluttering the space. Get rid of any unnecessary items and clear off surfaces. You'll be surprised at how much bigger your bathroom will look.
8. Wall mount the toilet
If you want to make your bathroom appear bigger, a wall-mounted toilet is a good way to do this. Wall-mounted toilets are perfect as they allow you to do away with the ugly toilet and put it in an accessible position. A wall-mounted toilet looks good and makes it easier to store toiletries and other items, such as gym equipment.
9. Use tiles
Tiles are a great way to add visual flair to your bathroom. Not only do they immediately add color and pattern to the room, but they also make it easier for you to have a variety of bathroom accessories. Like wall tiles, mosaic tiles are versatile and can be used in any room. You may also want to use mosaic tiles in your small bathroom since this type is usually more affordable and can be used in several spaces.
10. Match the floor and shower tiles
If you have a tiled bathroom, you should match the tiles and the shower tiles. If you choose a dark color for your bathroom, you'll want to match it with a lighter shade for your shower and toilet. While not everyone has a tiled bathroom, this tip is still useful as it can help bring color into the room.
11. Use a clean glass in the shower
A clean glass wall in your bathroom can make it look bigger without too much space. For example, if your shower is round, you can use a small framed mirror to make the bathroom appear to have more room. A clean glass could also be installed on one of the walls with a door or mirror to make it easier for you to navigate the space. Using clean glass will also give your bathroom a more modern look and make it feel more spacious. You may not have much space in your small bathroom, but you can still make your bathroom look bigger by using clean glass to make the area appear bigger.
12. Use shelving
If you have a tiny space in your bathroom, then you might want to consider using hanging shelves in your bathroom. Hanging shelves can help you put away your stuff and make your bathroom look bigger. Hanging shelves aren't just for clothes or other items, they can also be mounted on the wall to create a focal point. You could also use clear glass to make this idea appear bigger.
13. Use large-scale artwork
To make the most of your space and make your bathroom appear bigger, you can use artwork to cover up any unnecessary wall space. Large artwork will make a small space look bigger by drawing the eye. You don't want your guests to feel claustrophobic, so instead of using plain white towels, why not use artwork and photos? Not only will it look better, but it will also give the illusion that you have more space than you do.
Conclusion
Making a small bathroom look bigger doesn't have to be difficult. By installing the right kind of mirrors, glass, or tiles, you can make a big difference in the look and feel of your small bathroom. You don't have to spend a fortune on materials; you only need a little creativity and imagination. Using these tips, you'll be able to improve the look and feel of your space without spending any money. So, don't be afraid to experiment and try new things. You can turn your small bathroom into a spacious oasis with little effort.
If you are looking for more ways to create the illusion of space in your small bathroom, contact us for more information on bathroom decorating ideas. Or give us a call (941) 248-0301